Compact Structure
Ideal for Rainy Seasons
Multiple Fuel Options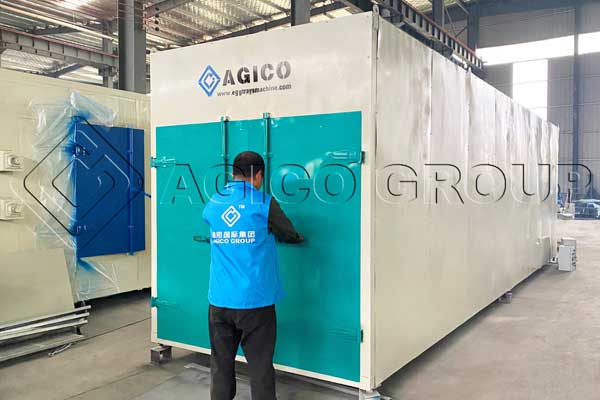 Cabinet Tray Dryer
Drying Capacity: <2500pc/h
Raw Material: Stainless Steel
Fuel: coal, natrual gas, diesel, LPG
Application: Drying for various pulp molded production line .
Get Price
Cabinet Tray Dryer Introduction:
Cabinet Tray Dryer, also known as the Hot Air Tray Dryer, is one of the popular semi-auto drying equipment for egg tray production line. This stainless steel (SS) tray dryer can be tailored to your specific needs, accommodating 24, 48, 72, 96 trays, or more, as per your requirements.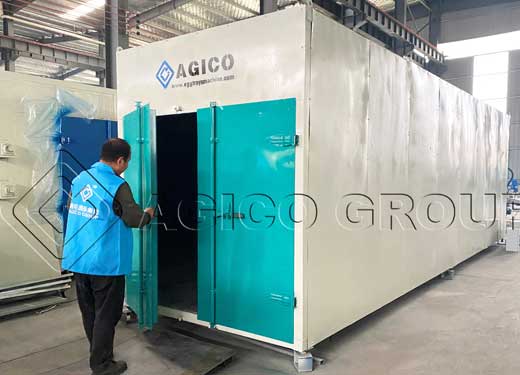 The Cabinet Tray Dryer is a conventional drying apparatus featuring enclosed, insulated chambers with trays stacked on trolleys. It finds applications in industries where drying and heating are critical components of the manufacturing process, including sectors such as food products, dye stuff, and chemicals, among others. pulp molded tray products such as eggtrays, egg cartons are to be dried efficienctly in this semi-auto drying equipment, it can be used to fit 4×4 mold eggtray making machine with capacity of 2500 pie/h.
Drying Process of Cabinet Tray Dryer
Our Hot Air Tray Dryer boasts an air circulation system that employs a fan-driven air supply mechanism, ensuring consistent and efficient air circulation. The process begins with the circulation blower propelling air through the heater to generate hot air. This hot air is then directed into the oven's inner chamber through designated air passages. Subsequently, used air is drawn into the air duct for recirculation and reheating.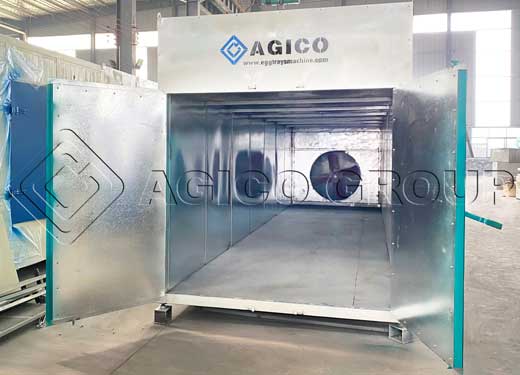 Improve Drying Efficiency with Cabinet Tray Dryer
Are you in need of efficient drying solutions for small-scale egg tray production, with a capacity of less than 2500 pieces per hour? Look no further! Our Cabinet Tray Dryer is designed with precision to meet your exact requirements.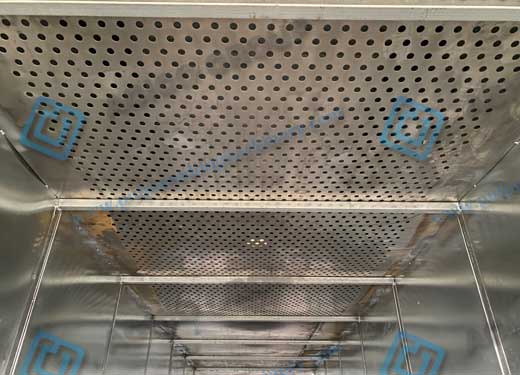 Cabinet Tray Dryer Advantages:
Compact and Convenient: This metal drying box is ingeniously compact, fitting snugly into a single container. It's the epitome of convenience, as there's no need for complex local construction during installation. Save time and resources while ensuring a hassle-free setup.
Ideal for Rainy Seasons: For customers in regions prone to rainy seasons, our metal drying box is your ultimate savior. Upon receiving the equipment, you can swiftly install and set it into operation, ensuring uninterrupted production, regardless of the weather conditions.
None Stop Egg Tray Production: If you already have drying equipment but wish to produce egg trays year-round while considering the challenges posed by the rainy season? Our metal drying box is your versatile solution. Simply alternate between your existing drying setup and our metal drying box to keep your production on track.
Multiple Fuel Options: Flexibility is the key to success. Our equipment can be powered with coal, diesel, natural gas, or liquefied petroleum gas, catering to your specific needs and preferences. We customize the solution according to your production volume and site requirements.
Ready to enhance your small-scale egg tray production with a reliable, versatile, and compact drying solution? Contact us promptly, and let's tailor our Metal Drying Box to your unique needs and specifications.