7000 pcs-h Egg Tray Production Line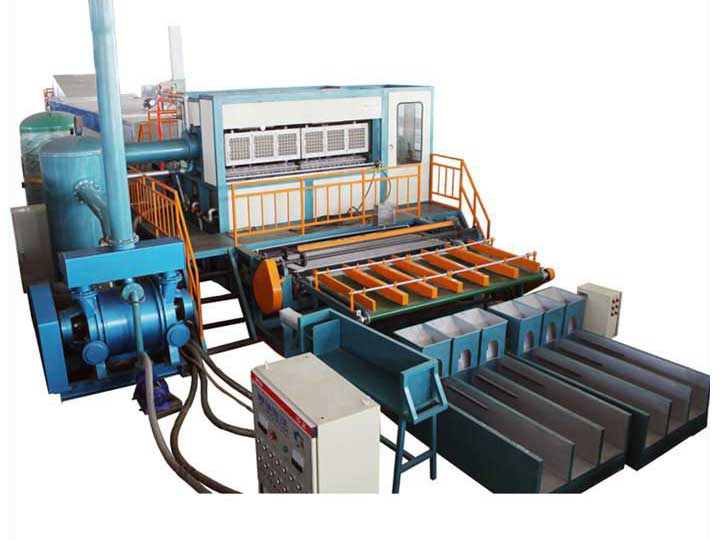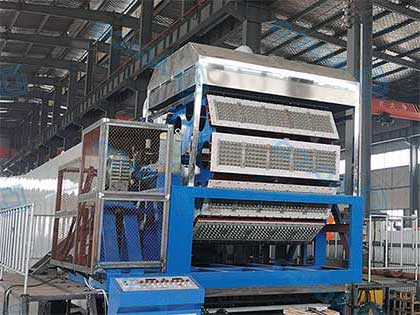 Production Capacity: 7000 pieces/h
Raw Material:   waste paper 
Workers Need:  6-9 
Final Product:  egg tray, egg crate, egg box
DT-6*8 is the Agico model of 7000 pieces/h egg tray making machine, the 7000 pieces/h egg tray production line is the largest scale pulp molding machinery among all the models, it is definitely a perfect machine for large scale paper tray manufacture business. If you have any idea of supplying large quantities of egg trays, you may contact us for the project details and prices. It is a fully automatic egg tray production line, automatic design of egg tray plant can greatly reduce the labor force and increase the production efficiency for you, and Agico aims to manufacture most reliable pulp molding machinery for worldwide customers.

7000 Pieces/h Egg Tray Production Line Specification
Model
Production/h
Mold
Labor Force
Vaccum Pump
Pulper
Drying Method
DT-6*8 7000 Type
6000-7000pcs/h

Forming Mold 48 Chunks

Transfer Mold:6 Chunks

6-9 People
60kw
6m3

Civil Engineering Dryer

Multi-layer Metal Dryer
Civil Engineering or Metal Drying for 7000 Pieces/h Egg Tray Production Line
Civil engineering requires building the drying tunnel with bricks and cement, and it is a really long tunnel for its single layer of conveyor limit. 
Metal Drying can be customized up to 6 layers of conveyor, and it requires a lot of space for customer,  Agico manufactures the 6 layer metal drying equipment for 7000 pieces/h egg tray production line and other large output egg tray plant.
Model
DT-6*8 With Civil Engineering
DT-6*8 With Metal Dryer
Capacity (pieces/h)
6000-6500
6000-6500
Forming Mould Quantity
48
48
Total Power (kw)
223
226
Electricity Consumption (kw/h)
156
156
Labor Force
6-9
5-7
Material Consumption (kg/h)
Paper
520
425
Water
1560
1275
Drying Method
brick drying line (60000*4000*2800)
metal drying line(23000*2500*3900)
Fuel for Drying
Coal; natural gas, diesel oil, liquefied petroleum gas
natural LPC, LNG, diesel, natural gas
Factory Area
more than 300㎡
more than 1000㎡
Who Would Buy 7000 Pieces/h Egg Tray Production Line
7000 pieces/h Egg Tray Making machine is equiped with 8 mold plate, 6 molds for each, totally 48 molds, it is installed with the 45 degrees angle on the rotary drum. It is used for large quantity paper tray production of the same product thickness, for example, install egg trays and egg carton mold on the same mold plate, customer will get paper egg tray and egg carton products at the same time.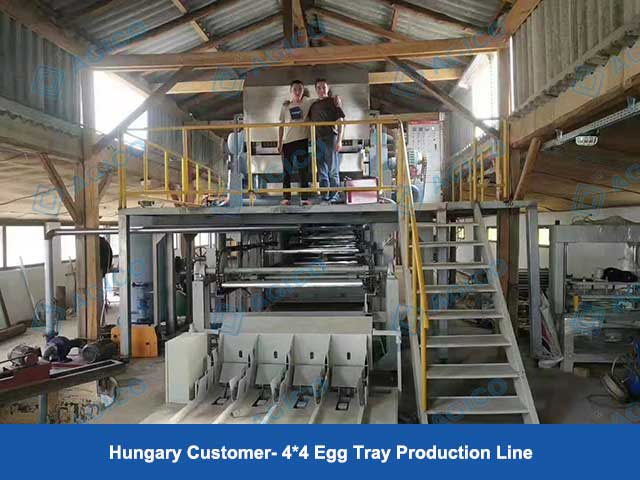 This type of large scale automatic egg tray production line is mostly purchased by egg tray supplier, it is the pulp molding machinery model with the highest production efficiency, just be sure that you would need this large output paper tray production line before you contact us, or you can search for our help on picking up the most suitable egg tray plant equipment now!
Why Choose Agico Egg Tray Making Machine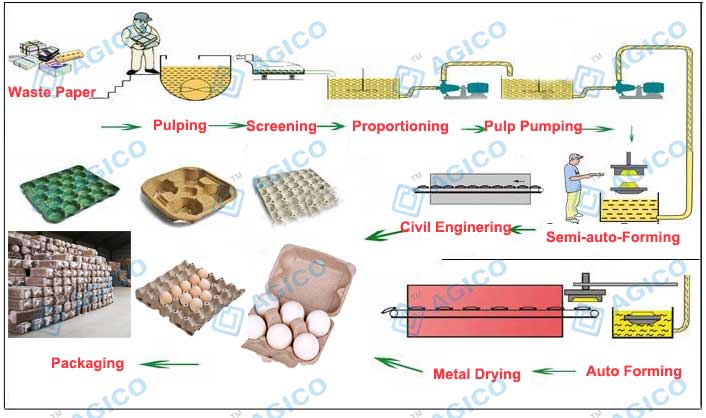 Pulp Mold for Various Paper Trays
Agico has rich experience in paper tray mold design, which are widely used in production of egg tray, egg carton, apple tray, seeding tray, and paper trays for medical equipment, electronic components, industry package, etc. We manufacture high quality pulp molding line equipment with high efficiency and low fuel cost for poultry farmers.
Customer can buy waste paper as raw material for egg tray production, water recycle system will help customer to reduce water cost, which makes it an environmental friendly business.
Sales and Installation Service
Agico provide full solution for customers on egg tray plant equipment and building, we can choose the best match of pulping, forming and drying equipment for customers, paper tray mold die design is also available. Our Service will not be over until the test run of egg tray plant is successful.
Customer are welcome to visit our factory for view of detailed manufacturing process of pulp molding machines, which includes the following 3 production systems: