Apple Tray Making Machine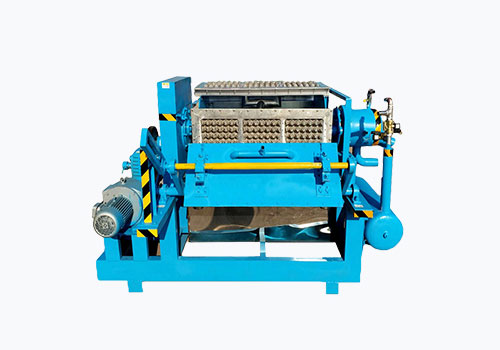 2000 pcs/h egg tray production line include 3 main equipment: paper pulping equipment, egg tray molding equipment, egg tray drying equipment, it is suitable for production of all kinds of paper tray products, pulp molding machine supplied by Agico is able to fit with various types of egg tray mold, egg carton mold and other paper tray mold dies. You can use any type of waste paper to make egg trays for poultry farm.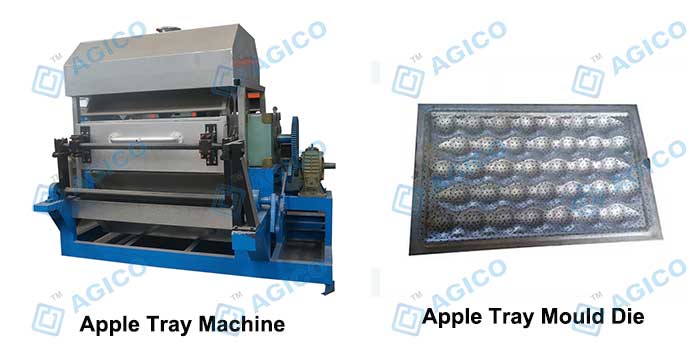 Final Product – Apple and Fruit Tray
The apple tray making machine can use all kinds of waste paper to produce high quality molded fiber tray products. Such as egg trays, egg boxes, apple trays, seeding trays, fresh fruit tray, electric inner tray, food and medical packing, medical product, special industry tray packaging, etc.
Paper fruit tray making machine is also able to produce other paper tray products by using different mold die, which means you can change the apple tray mold into egg tray mold to produce paper egg trays. Our pulp molding machine is multi-functional and reliable for all types of paper mold products.
Apple Tray Machine Model for Sale
Agico can supply apple tray production line with output from 1000 pieces/h to 7000 pieces/h, and we can offer civil engineering drying and metal drying equipment for customer, just leave a message now if you need more details of this equipment.
Model
ZMDTF3-1
ZMDTF4-1
ZMDT3-4
BTF-4-4
ZMDT3-8
ZMDT-4-8
ZMDT-5-8
Production capacity(pieces/h)
1000
1500
2000
2500
3000
4000
5000
Forming mould quantity
3
4
12
16
32
40
60
Total power (kw)
34
41.2
53.7
57
90
150
153
Electricity consumption (kw/h) (70% of the total power)
23.8
28.84
37.59
39.9
63
105
107.1
Labor force
3-5
4-6
4-6
4-6
5-7
5-7
5-7
Materials consumption (kg/h)
Paper
85
102
170
212
298
425
459
Water
255
306
510
636
894
1275
1377
Fuel consumption
Coal
50
60
83
104
125
208
208
Natural gas
22-32
26-36
37-47
46-56
56-66
92-103
92-103
Diesel
18-28
22-32
30-40
38-48
46-56
77-87
77-87
No matter what kind of paper pulp molding machine you need, you can come to Agico for solutions. It's very easy for customer to choose the right apple tray making machine model if they have been in paper tray production business, there's no problem if you know nothing about paper tray molding, Agico will make specific project plans according to your requirements.
Apple Tray Machine Drying Solution
Drying type
Material(kg/h)
Power(kw/h)
Fuel(kg/h)
Paper
Water
Coal
Gas(m³/h)
Diesel
LPG
Natural drying
170
510
32.6
Civil engineering
45.3
83
37-47
30-40
30-40
Single layer metal
45.3
37-47
30-40
30-40
Multilayer metal
45.3
37-47
30-40
30-40
Notes: 1. The above data is calculated according to the weight of each egg tray of 100g. 2. The above data is calculated as pure pulp without adding stone powder. If 20-30% stone powder is added, the actual consumption of paper is 70-80% of the above data. Contact us for more details.
Why Paper Fruit Tray and Apple Tray Becomes Popular
Paper fruit tray and apple tray products has become popular in recent years, for large amount of apples and other fruits are transported to places for storage and selling each year, with proper package method of apple trays, the apples will be preserved longer and better. And compared with apple tray of other materials, paper apple tray is cheaper and can be recycled. So you can make considerable profit easily with our apple tray making machine, if you are interested in paper apple tray production, contact Agico now for the most suitable solution now!.