Seedling Tray Making Machine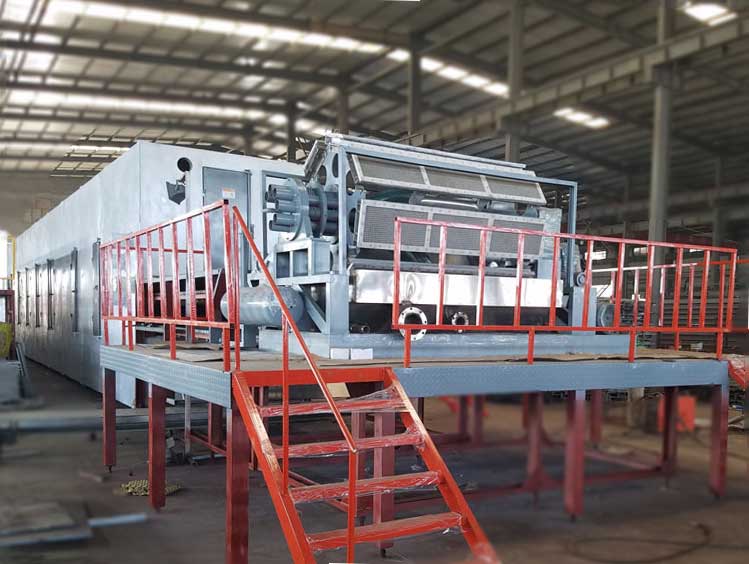 Production Capacity: 3000 pieces/h
Raw Material:   waste paper 
Workers Need:
2-3
Final Product:
paper seedling tray
Agico manufactures seedling tray making machine for application in agricultrue industry, by making use of raw materials of waste paper, it produces good quality paper seedling tray product for farmers.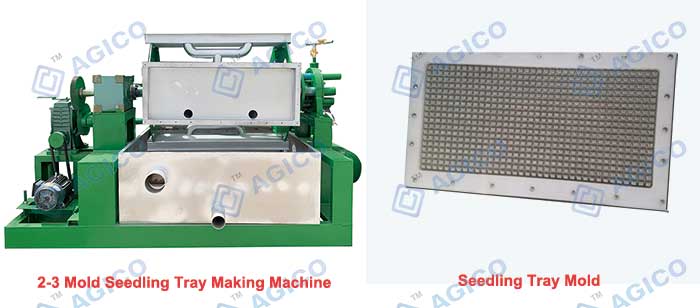 Seedling Tray is a type of paper nursery tray, which is degradable in natrual environment. It is a profitable business as an envrionmental friendly paper tray product. Agico produces multi-funcational pulp molding machine as well as various types of pulp mold for paper tray production.
Seedling Tray Making  Machine Models Specification
Model
ZMDTF3-1
ZMDTF4-1
ZMDT3-4
BTF-4-4
ZMDT3-8
ZMDT-4-8
ZMDT-5-8
Production capacity(pieces/h)
1000
1500
2000
2500
3000
4000
5000
Forming mould quantity
3
4
12
16
32
40
60
Total power (kw)
34
41.2
53.7
57
90
150
153
Electricity consumption (kw/h) (70% of the total power)
23.8
28.84
37.59
39.9
63
105
107.1
Labor force
3-5
4-6
4-6
4-6
5-7
5-7
5-7
Materials consumption (kg/h)
Paper
85
102
170
212
298
425
459
Water
255
306
510
636
894
1275
1377
Fuel consumption
Coal
50
60
83
104
125
208
208
Natural gas
22-32
26-36
37-47
46-56
56-66
92-103
92-103
Diesel
18-28
22-32
30-40
38-48
46-56
77-87
77-87
Seedling Tray Production Line Drying Solutions
Drying type
Material(kg/h)
Power(kw/h)
Fuel(kg/h)
Paper
Water
Coal
Gas(m³/h)
Diesel
LPG
Natural drying
170
510
32.6
Civil engineering
45.3
83
37-47
30-40
30-40
Single layer metal
45.3
37-47
30-40
30-40
Multilayer metal
45.3
37-47
30-40
30-40
Seedling Tray Product and Mold die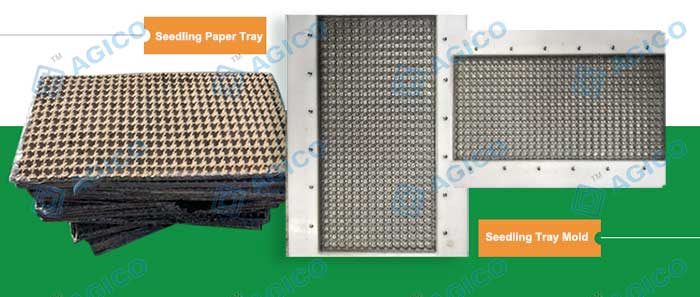 A complete paper seedling tray production line includes 4 main sections: pulp making process, pulp forming process, drying process, packing process. You will need a series of equipment if you want to start making seedling tray.

If you want to have your own design of seedling tray shape, you can provide design detals of mold and details of raw material and size, then Agico can customize the mold manufacture for you, after you got the equipments delivered, we will guide you to install the whole production line, customer shall have no worry about the installation and operation. Usually seedling tray machine output, mould die (shape and mateiral), drying process are the 3 major questions customer should answer while buying a whole seedling tray production line.
Why Seedling Tray Becomes Popular as Nursery Tray
Eco-friendly: Customers can get raw materials easily at low price, paper seeding trays can use straws, which is very easy to get at the farm. When you want to use it for other paper tray production, just change the molds and get the machine running.
Low Investment: With the development of seedling nursery and environment protection, paper seedling trays will replace plastic trays in the future. It is possible for you to get support from your government. More important, Beston Machinery can design the pulp molding dies as you need. Below are some molds we have made.
Market Advantage: Environment protection is a task for all industries, paper seedling tray is the trend for nursery tray product, and paper tray products have used more frequently than before.
Advantages of Seedling Tray Making Machine
High efficiency and low energy consumption.
The system is simple and the structure is compact.
Environmental Friendly Production with  Water Recycle and Low fuel consumption
Easy to operate, and maintain.
Long service life of main equipment and mold die part