4000 PCS/H Egg Tray Production Line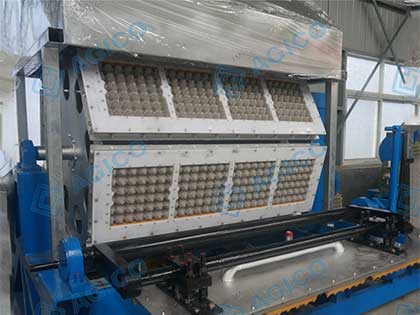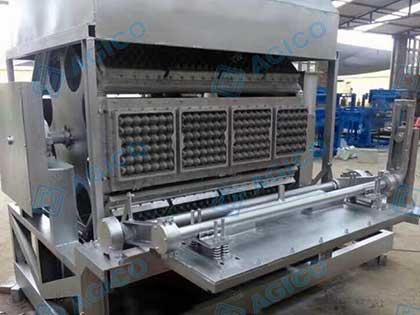 Production Capacity: 4000 pieces/h
Raw Material:   waste paper 
Workers Need:  2-3 
Final Product:  egg tray, egg crate, egg box
4000 pcs/h egg tray production line supplied by Agico does a great job in production of high quality egg trays, the main equipment egg tray making machine model is CTDT4×8, such large output egg tray production line is equipped with a drying line of single layer metal or multi-layer metal drying line or brick drying line(civil engineering).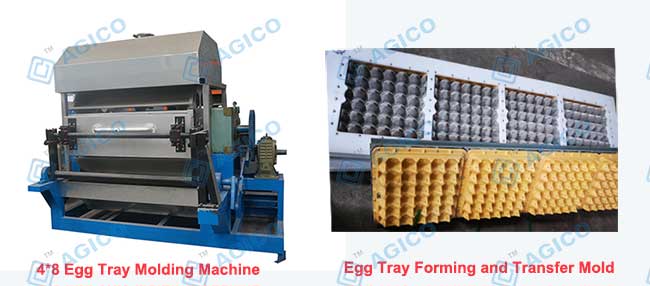 Paper Tray Product Manufactured by 4000 Egg Tray Machine
The following egg trays are standard, including 18-hole, 24-hole, and 30-hole egg trays. Besides, we provide forming mold to make pulp egg boxes, shoe trays, packaging trays, fruit trays, bottle trays, seedling trays. You also can send a sample picture to us. Then we customize forming molds for you.
Specification of 4000pcs Automatic Egg Tray Production Line
Production line models
Output(p/h)
Pulping machine
Egg tray machine
Drying type
ZMDT4×8-4000T
4000
ZDS4(4m3)
DT4×8(32 moulds)
Civil engineering
ZMDT4×8-4000J1
Single layer metal
ZMDT4×8-4000J6
Multilayer metal
Consumption of 4000pcs/h Egg Tray Production Line
Models
Drying type
Material(kg/h)
Power(kw/h)
Fuel(kg/h)
Paper
Water
Coal
Gas(m3/h)
Diesel
LPG
ZMDT4×8-4000T
Civil engineering
340
1020
91
160
67-77

55-65

55-65

ZMDT4×8-4000J1
Single layer metal
91
?
67-77

55-65

55-65

ZMDT4×8-4000J6
Multilayer metal
91
?
67-77

55-65

55-65
Drying Equipment for 4000 pcs/h Egg Tray Production Line
Agico has 2 drying line solutions for egg tray production line of large out, one is civil engineering (brick building), the other one is single or multiple layer metal (metal building). Agico can send a team to guide customers to build the whole line, also we can provide video guidance for customers online. With civil engineering drying line, customer need more room and less investment. With metal building, customer will have a high drying efficiency. If you are interested, you can contact us for more details of drying production line.
From now on,4000-4500 pcs/h egg tray production line has been installed in more than 10 countries. Customers got assistant from Agico when installing their pulp molding lines. We provide two kinds of installment assistance – site installment and video guidance online, and. Besides, the multi-layer metal drying line is the most popular option because of its high efficiency and easy operation.
What Raw Materials Can be Recycled for Egg Tray Making

There are different quality levels of waste paper for pulp making, including used books, magazines, newspapers, paper bag, and customers can buy high quality paper waste from paper mills. Use better waste paper will give you the better-quality paper tray product, the quality of paper trays can be adjusted by changing waste paper material.