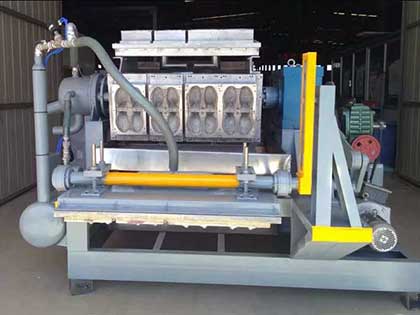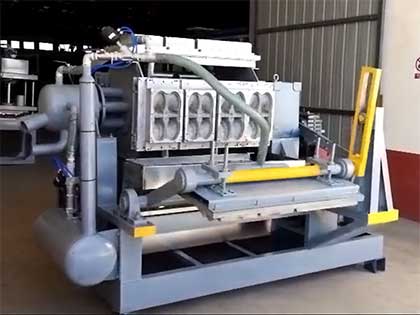 Production Capacity: 2500 pieces/h
Raw Material:   waste paper 
Workers Need:  2-3 
Final Product:  paper shoe tray, cardboard shoe insert
Cardboard shoe insert making machine makes shoe supports cardboard tree to help maintain the original shoe shape, prevent creases and cracking, and absorb moisture from the lining of the shoes. Agico developed 1-sided, 4-sided, 8-sided cardboard shoe tray making machine for customer, with 3-6 mold on each side. As cardboard shoe insert shape is different according to the shoes, the cardboard shoe insert mold need to be customized according to the size and shape of the shoes.

Output of cardboard shoe insert making machine is decided by the mold numbers on the rotary drum of pulp molding machine, Agico is able to provide from 1000 pieces/h model to 7000 pieces/h model.
Working Process of Shoe Tray Making Machine
The same as egg carton production line, it is composed of 4 main part, pulping system, molding system, drying system and packing system. 
1. Hydraulic pulper will process the pulp, water and additives into fine paper pulp, which is called proportioning, then the pulp is pumped to the pulp pool of cardboard shoe insert making machine for pulp molding.
2. Pulp molding machine will gather a layer of pulp on the surface of cardboard shoe insert mold, then it is transferred to the conveyor by transferring mold.
3. Cardboard shoe insert is dried by civil engineering drying or metal drying method 
4.Cardboard shoe insert will be further processed by hot pressing machine for better hardness and surface conditions. 
Special Forming Equipment-Hot Press Machine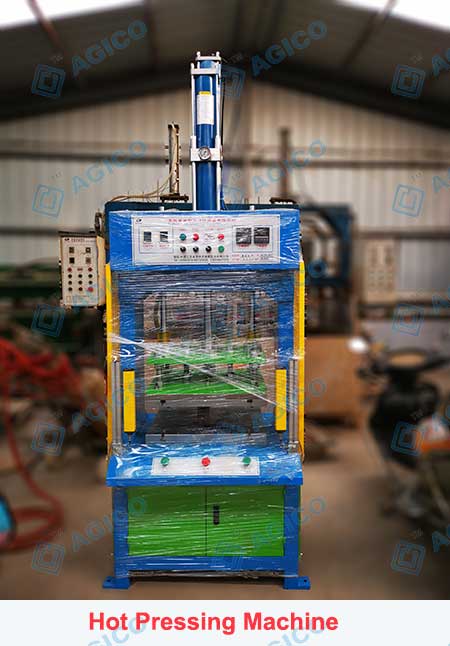 Except for the common auxiliary equipment, cardboard shoe insert production line adopts a hot press machine to make the final product with high hardness and better surface conditions, with pressure and temperature adjusted properly, the quality of cardboard shoe insert is improved, and stacking of cardboard shoe insert is much easier for the compact structure.
Advantages of Cardboard Shoe Insert Making Machine
Raw material of cardboard shoe insert can be various kind of waste paper, it's very easy and cheap to buy, such as old books, newspapers, scrap paper, etc. Cheap Raw Material makes the cardboard shoe insert business profitable.
Although the production process of cardboard shoe insert is simple, there are a series of equipment involved, hot press machine is one extra equipment for ensure high quality of cardboard shoe insert.
Custom Production Line Design
Each customer has different situations, for example the raw material type, final product dimension, factory site conditions, so you can have pulp mold die customized, pulp making system customized – pulp pools can be built on the ground or under the ground.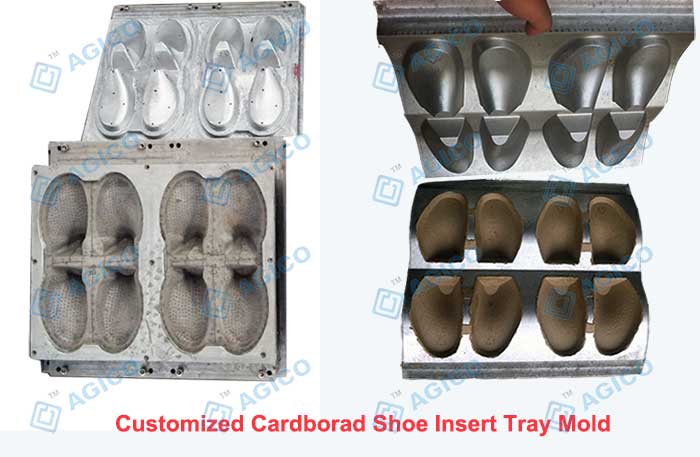 Cardboard Shoe Insert Making Machine Models Specification
Model
ZMDTF3-1
ZMDTF4-1
ZMDT3-4
BTF-4-4
ZMDT3-8
ZMDT-4-8
ZMDT-5-8
Production capacity(pieces/h)
1000
1500
2000
2500
3000
4000
5000
Forming mould quantity
3
4
12
16
32
40
60
Total power (kw)
34
41.2
53.7
57
90
150
153
Electricity consumption (kw/h) (70% of the total power)
23.8
28.84
37.59
39.9
63
105
107.1
Labor force
3-5
4-6
4-6
4-6
5-7
5-7
5-7
Materials consumption (kg/h)
Paper
85
102
170
212
298
425
459
Water
255
306
510
636
894
1275
1377
Fuel consumption
Coal
50
60
83
104
125
208
208
Natural gas
22-32
26-36
37-47
46-56
56-66
92-103
92-103
Diesel
18-28
22-32
30-40
38-48
46-56
77-87
77-87
Cardboard Shoe Insert Production Line Drying Solutions
Drying type
Material(kg/h)
Power(kw/h)
Fuel(kg/h)
Paper
Water
Coal
Gas(m³/h)
Diesel
LPG
Natural drying
170
510
32.6
Civil engineering
45.3
83
37-47
30-40
30-40
Single layer metal
45.3
37-47
30-40
30-40
Multilayer metal
45.3
37-47
30-40
30-40