2500 pcs/h Egg Tray Production Line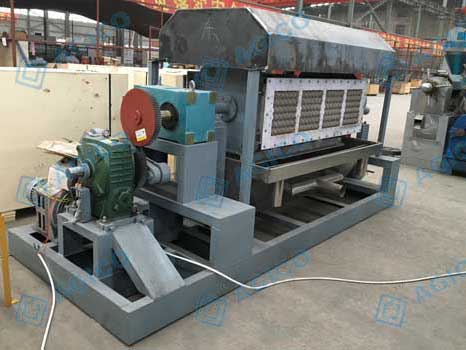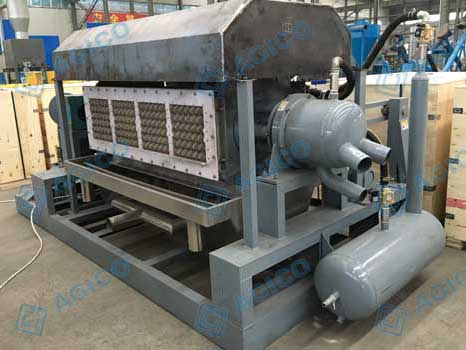 Production Capacity: 2500 pieces/h
Raw Material:   waste paper 
Workers Need:  2-3 
Final Product:  egg tray, egg crate, egg box
The output of 2500pcs/h egg tray making machine could meet the requirements of medium chicken farm, or 2-3 small chicken farms. Although it adopts with drying room (civil engineering drying), mostly it is a single brick drying line, or a small multiple-layer metal drying line. Due to high production efficiency, when compared with egg tray machine with 1000 pcs/h, its production cost per piece is almost the same, and it has the advantage of continuous drying process with no weathering problems.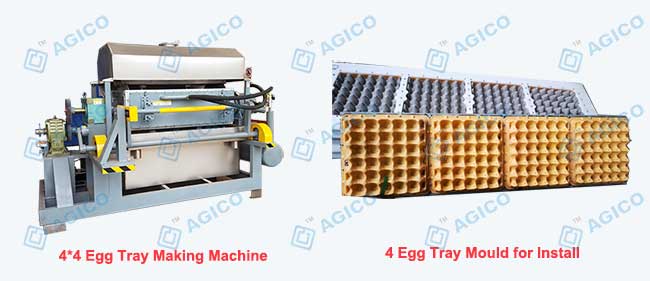 2500 Pieces/h Egg Tray Production Line Equipment
Large output egg tray production line is always designed and equipped with more equipment for continuous production. Besides pulp making, egg tray forming, egg tray drying, hot pressing and labeling machine, printing machine, stacking equipment are also included.
Models of 2500pcs/h Egg Tray Production Line
Production line models
Output(p/h)
Pulping machine
Egg tray machine
Drying type
ZMDT4×4-2500
2500
ZDS2(2m³)
DT4×4(16 moulds)
Natural drying
ZMDT4×4-2500T
Civil engineering
ZMDT4×4-2500J1
Single layer metal
ZMDT4×4-2500J6
Multilayer metal
Consumption of 2500pcs/h Egg Tray Production Line
Models
Drying type
Material(kg/h)
Power(kw/h)
Fuel(kg/h)
Paper
Water
Coal
Gas(m³/h)
Diesel
LPG
ZMDT4×4-2500
Natural drying
212
636
34.2
ZMDT4×4-2500T
Civil engineering
46.8
104
46-56
38-48
38-48
ZMDT4×4-2500J1
Single layer metal
46.8
46-56
38-48
38-48
ZMDT4×4-2500J6
Multilayer metal
46.8
46-56
38-48
38-48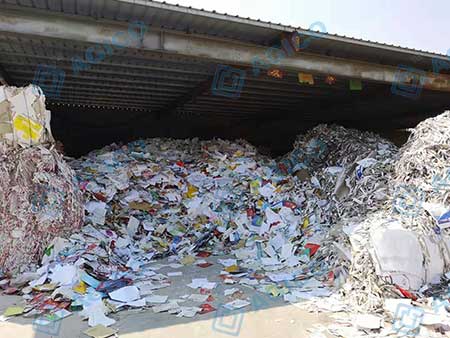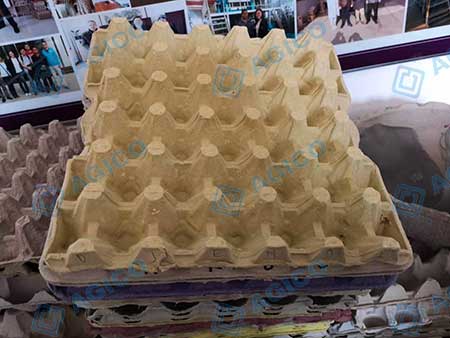 What Raw Materials Can be Used to Make Egg Trays?
Egg trays can be made from recycled paper pulp, which is made by mixing all kinds of paper and water into a blender to produce thick slurry. The waste paper comes from books, magazines, cardboard,etc.
All Types of Paper Tray Product Made by Egg Tray Machine
Yes, you can produce other types of paper trays using waste paper, such as shoe trays, fruit trays, seeding tray, apple tray, bottle tray, all you need is change the mould part and some adjustment to pulp molding machine and drying time, as different paper tray product may have different thickness.
Drying Solution for 2500 Pieces/h Egg Tray Production Line
Customers can choose from 3 drying process: natural drying, civil engineering and multiple layer metal dryer. For egg tray machine with capacity of 2500 pcs/h, Agico would suggest civil engineering as your drying solution if you have enough space and requires less drying time. Civil engineering is a brick tunnel kiln with heat source generated by fuel of natural gas, diesel, coal, wood, etc. Which can greatly improve the drying efficiency.
Why Choose 2500 Pcs/H Egg Tray Production Line
All Agico's pulp molding machinery are automatic models. This model is suitable for brick and multiple-layer drying lines. These drying lines have an automatic system that is easy to operate. When you take these dryers into consideration, just send your requirement to Agico. 
It is one awesome money-making business for customers to make egg tray products, you can supply egg trays monthly to poultry farms, it's very easy for you to find your customers, once they have seen the samples made by Agico egg tray making machine, they would be convinced easily for your product. If you are interested in buying 2500 pieces/h egg tray production line, feel free to contact us by email or call us now!