How to Choose Egg Tray Machine Model 
Egg tray machine is designed to be with 4 or 8 faces rotating drum, pulp mold die numbers on each drum can be 2, 3, 4, 5 pieces. We supply 8 models of the egg carton making machines, such as ZMDTF3×1, ZMDTF4×1, ZMDT3×4, ZMDT4×4, ZMDT3×8, ZMDT4×8, ZMDT5×8, ZMDT8×8.  Customer can choose from the specifications of each egg tray making machine.
As a professional egg tray production line equipment manufacturer, AGICO can produce various models of egg tray making machines on the market, Egg tray machines are available in different models at Agico, which is distinguished by face numbers of rotating drum and mold die numbers, such as: 4×1, 3×4, 4×4, 3×8, 4×8, 5×8, 8×8, the total mold die number indicates the output of the egg tray making machine.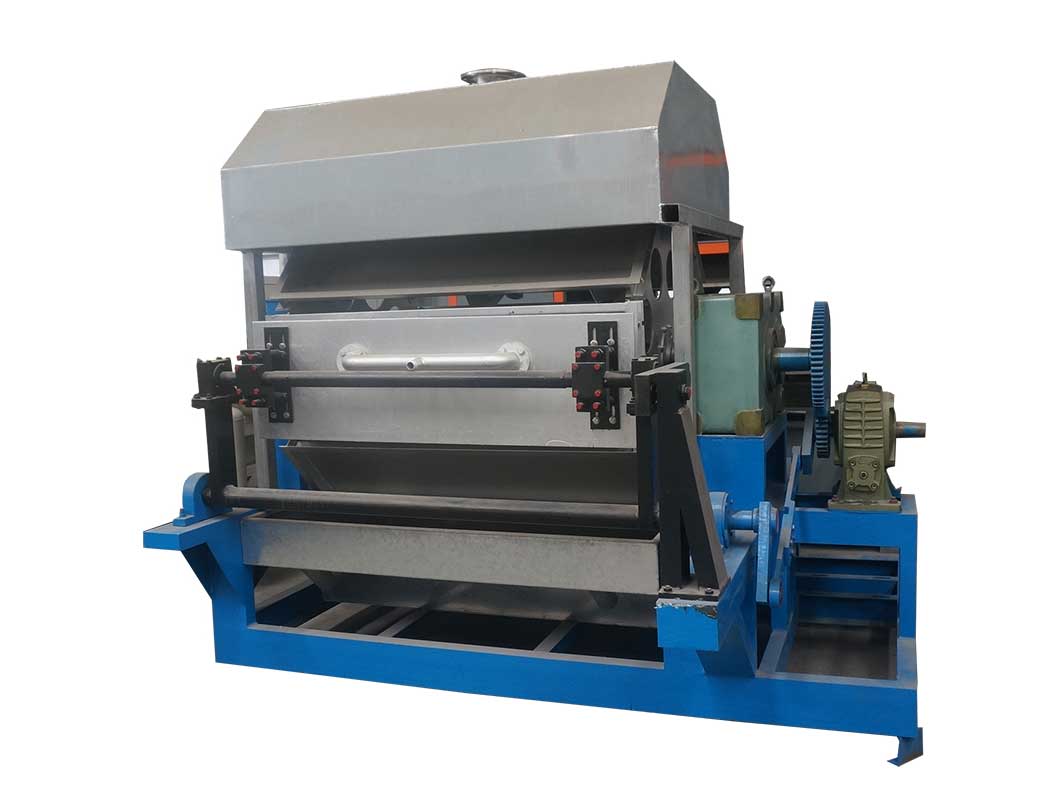 For customer best buying experience, Agico provide complete solution for starting an egg tray production line, you only need to send your raw material type info and the output range according to the local market. 
Rotary Drum Pulp Molding Machine
A rotary drum pulp molding machine is a continuous (drum) former, also known as a rotary polygon former. A common drum molding machine consists of a transmission and speed regulating device, a drum, a stripper, a cleaner and a controller.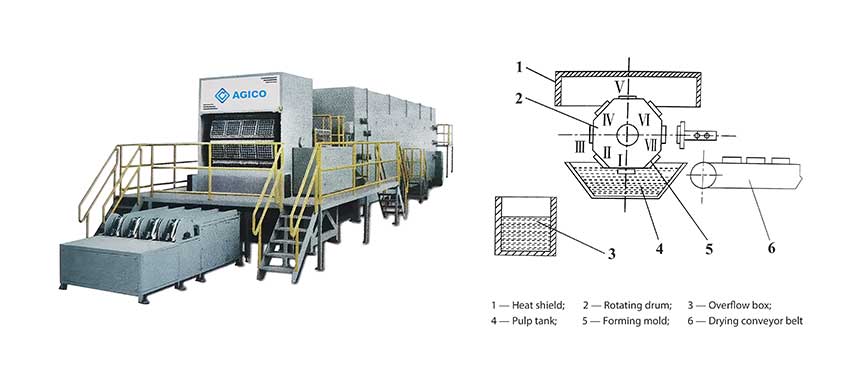 Advantages of Rotary Drum Pulp Molding Machine
The Rotary Drum Molding Machine has a high degree of automation, high production efficiency, and a production capacity of 5 to 6 times per minute. As its forming molds are arranged on a rotatable drum, the pressure it bears is low, and its wet paper mold blank is denser. It is not suitable for the production of Chinese tableware, and it is more suitable for large-scale continuous automatic production of small wall thickness and depth. Shallow plate thin-walled cutlery. At present, this kind of equipment is commonly used in China to produce trays, egg trays, bottle rack trays, fruit boxes, electrical appliances lining packaging and other non-soup products.
Pulp Molding Machinery-ISO9001 Certificate
Egg tray machine, also called egg tray making machine, egg tray forming machine, egg tray molding machine, it is used for production of paper egg trays for egg protection of chicken farm, it is one key machine in egg tray production line, you can use waste paper as raw materials to produce fine egg trays and egg cartons for egg protection.  
Egg Tray Machine Technical Parameters
Type
ZMDT3*4-2000
ZMDT4*4-2500
ZMDT4*8-4000
ZMDT5*8-5000
ZMDT8*8-9000
Capacity/hr
2000-2500pcs
2500-3500pcs
3500-4500pcs
4500-5500pcs
9000-10000pcs
Template size(mm*mm)
1250*470
1470*470
1470*470
1790*470
2900*470
Mould quantity
12+3pcs
16+4pcs
32+4pcs
40+5pcs
64+8pcs
Running method of forming machine
Rotary drum type adsorption molding
Forming cycle
10-15times/min
Power
74.5kw
85kw
127kw
177kw
250kw
Labor
3 person/shift
4 person/shift
4-6 person/shift
4-6 person/shift
6 person/shift
Paper
175kg/h
210kg/h
382kg/h
425kg/h
756kg/h
Water
455kg/h
510kg/h
1147kg/h
1275kg/h
2000kg/h
Available height of products
within 70mm

Drying method

A.
Natural drying: the products are naturallydried by sunlight and natural breeze
B.
Civil engineering drying: build a drying room with bricks
C.
Metal drying: Wet egg trays are automatically transported into metal drying tunnel by conveyor belt.(Heat energy: coal, natural gas (LNG), diesel, liquefied petroleum gas (LPG), heat transfer oil, steam, etc)

The production capacity of the equipment is based on the production of 30 cells egg trays, with a size of 300mm * 300mm and a dry tray weight of 70g.
Various specifications can be customized according to customer requirements, and the equipment can be configured and adjusted.
Working Principle of Rotary Drum Structure
The drum of the drum forming machine is to install the metal mesh to form the cavity seat of the sealed cavity. 18~48 molds. The transfer mold is assembled on a pair of four-bar linkage mechanism, and the drum is driven by a motor to drive a sheave mechanism to rotate to realize intermittent rotation, so as to ensure that when the mold is clamped with the transfer mold, there is a pause time for the wet paper mold blank to be smoothly transferred to the transfer mold. on the drying chain. During molding, the mold in station I is immersed in pulp, and its drum cavity is connected to the vacuum suction system in turn through the distribution device distributed on the end face of the drum, and the molding mold is sucked to produce a wet paper mold blank. When the forming mold is transferred from station I to station II and III, the vacuum suction state is still maintained, and the formed wet paper mold blank is dehydrated in large quantities. When transferred to stations IV, V, and VI, the wet paper mold blanks enter the heat insulation cover with the mold temperature of 240~260 °C and continue to be dehydrated and dried. When transferred to station VII, the forming die and the transfer die are clamped and demolded, and the wet paper die is rotated 90° by the transfer die and released to the drying conveyor belt. At the same time, the demolded forming die rotates with the drum. At the station VII, the water purifying nozzle sprays water to clean the forming mold, and finally the cleaned forming mold is transferred to the station I to start a new working cycle.
9000pcs/hr egg tray machine is an octahedral rotary drum forming machine, same with other egg tray machine models, it is composed of forming mold, transfer mold, worm gear reducer, motor, intelligent control electric appliance, high-precision divider, solenoid valve and other components. The motor drives worm gear reducer, which drives high precision divider to make the rotary drum structure rotates intermittently.
Agico is able to supplies egg tray production lines covering the output of 1000 pieces/h, 1500 pieces/h, 2000 pieces/h, 2500 pieces/h, 3000 pieces/h, 4000 pieces/h, 5000 pieces/h, 6000 pieces/h, 7000 pieces/h. If you are interested in starting egg tray production business, contact us now for details!