2000 pcs/h Egg Tray Production Line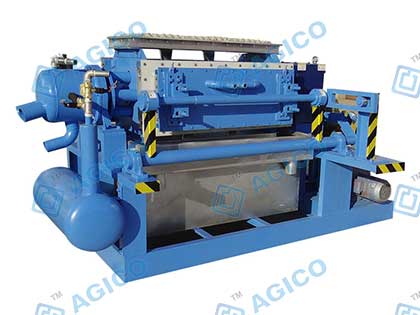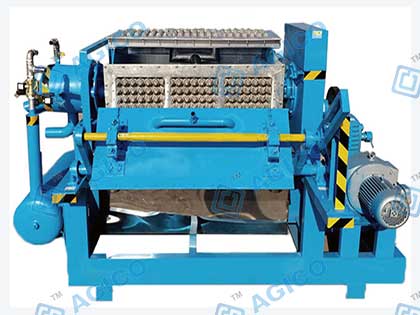 Production Capacity: 2000 pieces/h
Raw Material:   waste paper 
Workers Need:  2-3 
Final Product:  egg tray, egg crate, egg box
2000 pcs/h egg tray production line include 3 main equipment: paper pulping equipment, egg tray molding equipment, egg tray drying equipment, it is suitable for production of all kinds of paper tray products, pulp molding machine supplied by Agico is able to fit with various types of egg tray mold, egg carton mold and other paper tray mold dies. You can use any type of waste paper to make egg trays for poultry farm.


The egg tray making machine can use all kinds of waste paper to produce high quality molded fiber tray products. Such as egg trays, egg boxes, apple trays, seeding trays, fresh fruit tray, electric inner tray, food and medical packing, medical product, special industry tray packaging, etc.
Cost Analyze of 2000pcs/h Egg Tray Production Line
The following cost analysis, considering the site customer-owned.Only raw material consumption costs are accounted:daily working time of egg tray machine is 16 hours,26 working days per month,85 grams per egg tray,water is recycled in the actual production.                                                                                                                           
Egg Tray Production Line Capacity 3*4-2000
Natrual dry
Unit price
(based on Chinese price)
Input cost /h
Waste paper
170kg/h
$0.25/kg
$42.50
Water
340kg/h
$0.4/t
$0.14
Electricity
38kwh
$0.12/kwh
$4.56
Labor
4 people/shift
$1.43/h/person
$5.72
Output cost/h
Egg trays
2000pcs/h
$0.05/pcs
$100
Profit/h
$47
Daily profit
$753
Monthly profit
$19,587
Annual profit(12 months)
$235,043
Models of 2000pcs/h Egg Tray Production Line
Production line models
Output(p/h)
Pulping machine
Egg tray machine
Drying type
ZMDT3×4-2000
2000
ZDS1(1m³)
DT3×4(12 moulds)
Natural drying
ZMDT3×4-2000T
Civil engineering
ZMDT3×4-2000J1
Single layer metal
ZMDT3×4-2000J6
Multilayer metal
Consumption of 2000pcs/h Egg Tray Production Line
Models
Drying type
Material(kg/h)
Power(kw/h)
Fuel(kg/h)
Paper
Water
Coal
Gas(m³/h)
Diesel
LPG
ZMDT3×4-2000
Natural drying
170
510
32.6
ZMDT3×4-2000T
Civil engineering
45.3
83
37-47
30-40
30-40
ZMDT3×4-2000J1
Single layer metal
45.3
37-47
30-40
30-40
ZMDT3×4-2000J6
Multilayer metal
45.3
37-47
30-40
30-40
Notes: 1. The above data is calculated according to the weight of each egg tray of 100g. 2. The above data is calculated as pure pulp without adding stone powder. If 20-30% stone powder is added, the actual consumption of paper is 70-80% of the above data. Contact us for more details.
2000 Pieces/h Egg Tray Production Process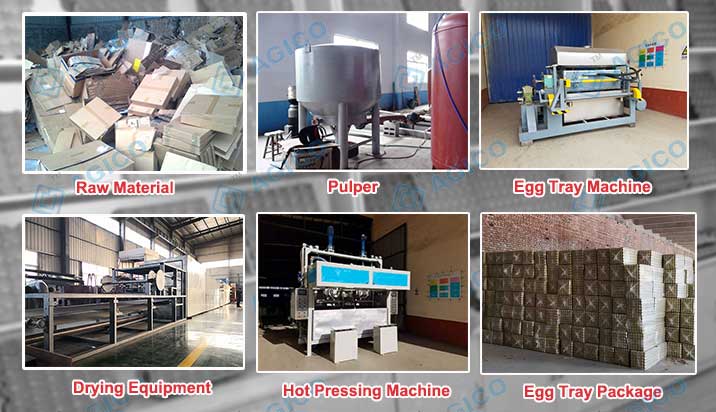 Waste paper conveyed into hydraulic pulper, water softens the paper fibers and slurry pump will break the papers into slurry. Impurities get screened out before getting into the proportioning tank. Then pulp is ready for pulp molding, or named forming process.
Egg Tray Molding Process
Negative pressure is generated by vacuum pump, and it will suck the pulp onto the egg tray forming mold, then the forming mold and transferring mold will work together to press and deliver the wet egg trays onto conveyor.
Egg Tray Drying Process
Natural drying line refers to drying under the sun. Investors use trolleys to transport egg trays.
Civil Engineering drying line needs the fundamental work related to bricks. Through a brick conveyor, egg trays are transported into brick drying room.
Metal drying line refers to the single and multiple-layer metal drying room equipped with a metal conveyor. This line has high level of automation and efficiency.
2000 Pieces-h Egg Tray Production line for Medium-scale Business
Poultry Farmers and egg tray suppliers can choose 2000 pieces-h egg tray production line, egg tray production equipment manufactured by Agico has the features of low fuel cost, water saving, high working efficiency, and of high profit. You can have customized plan of egg tray production and unique paper tray mold designed if you need.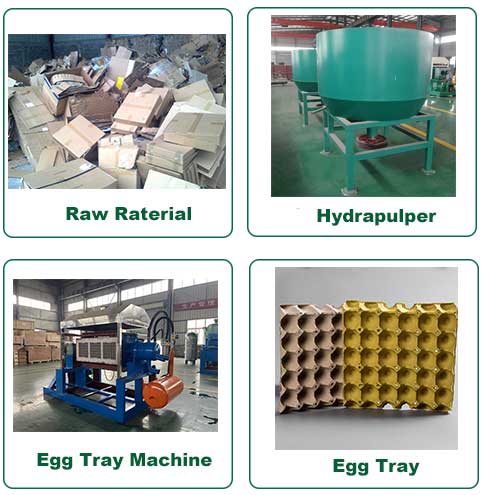 Agico can show you the manufacturing process of 2000 pieces egg tray production line, or we can send you the details of egg tray making machines and auxiliary equipment on your requirements, and we can provide the installation training video for free. Free feel to contact us if you are about to start paper tray business.