10000 pcs-h Egg Tray Production Line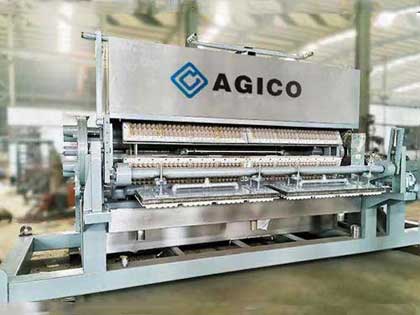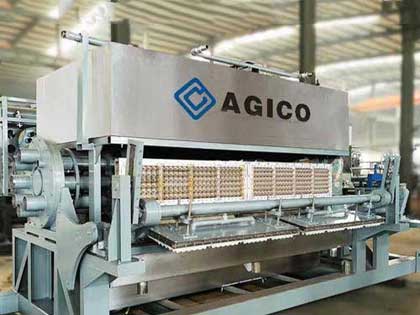 Production Capacity: 10000 pieces/h
Raw Material:   waste paper 
Workers Need:  4-5 
Final Product:  egg tray, egg crate, egg box
Drying Equipment:
6 layer metal drying
AGICO supplies automatic egg tray production line with a capacity of 9000-10000 pcs/h, equipped with ZMDT 8*8 egg tray-making machine, it is for now, the largest capacity. Recycled waste paper such as old books, newspapers, cardboard boxes, various paper scraps from printing and packaging factories, and waste pulp from paper mills can be used as the raw material for paper egg tray production.
This automatic egg tray production line is designed with a large capacity pulp-making system, 6-layer metal drying system and packing system, if required by the customer, hot press machine can be added to improve the paper egg tray product quality.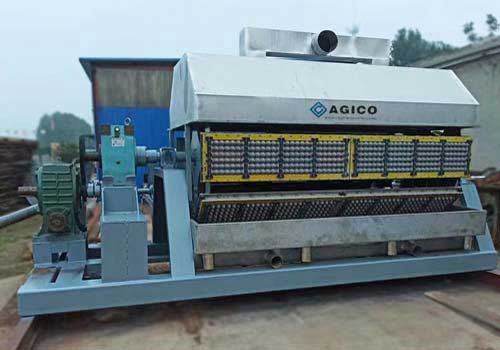 10000 pcs-h Egg Tray Production Line Specification
Capacity/hr
Template size
(mm*mm)
Mould quantity
Paper
Forming cycle
Power
Water
9000-10000pcs
2900*470
64+8pcs
756kg/h
10-15times/min
250kw
2000kg/h
Metal Drying for 10000 Pieces/h Egg Tray Production Line
The drying production line uses natural gas, diesel, gasoline, biomass pellets, or steam (heat-conducting oil) as the heat source to heat the air and dry the molded paper pulp products in hot air (180~220°C), using a fan to extract the evaporated water, achieving rapid drying effect.
Metal Drying can be customized up to 6 layers of conveyor, and it requires a lot of space for customer,  Agico manufactures the 6 layer metal drying equipment for 10000 pieces/h egg tray production line and other large output egg tray plant.
cost. Customers can choose according to your need.
Civil engineering requires building the drying tunnel with bricks and cement, and it is a really long tunnel for its single layer of conveyor limit. 
The civil engineering drying line has novel structure, reasonable design, low one-time investment, high thermal efficiency, long service life, easy maintenance, and convenient use. It can be designed according to the user's local fuel conditions, such as natural gas, gas, smokeless coal, low-smoke firewood, diesel gasoline, biomass pellets, firewood, bark, bamboo scraps, etc., as fuel.
The metal drying line has single-layer drying line and multi-layer drying line; if the equipment is equipped with a single-layer drying line, the floor space is large, and the workshop length cannot be less than 70 meters; if equipped with a multi-layer drying line, the floor space is small, the workshop length is ≤40 meters, the workshop height is ≥4.5 meters, and the volume is small, effectively saving the heat inside the drying line.
 Compared with the multi-layer steel drying egg tray equipment, the single-layer steel drying egg tray equipment has a larger floor space and is not cheaper in cost.
Model
DT-8*8 With Civil Engineering
DT-8*8 With Metal Dryer
Capacity (pieces/h)
9000-10000

9000-10000

Forming Mould Quantity
64
64
Total Power (kw)
223
226
Electricity Consumption (kw/h)
156
156
Labor Force
5-7
5-7
Material Consumption (kg/h)
Paper
756
756
Water
2000
2000
Drying Method
brick drying line
metal drying line
Fuel for Drying
Coal; natural gas, diesel oil, liquefied petroleum gas
natural LPC, LNG, diesel, natural gas
Factory Area
more than 300㎡
more than 1000㎡
Who Would Buy 10000 Pieces/h Egg Tray Production Line
10000 pieces/h Egg Tray Making machine is equiped with 8 mold plate, 8 molds for each, totally 64 molds, it is installed with the 45 degrees angle on the rotary drum. It is used for large quantity paper tray production of the same product thickness, for example, install egg trays and egg carton mold on the same mold plate, customer will get paper egg tray and egg carton products at the same time.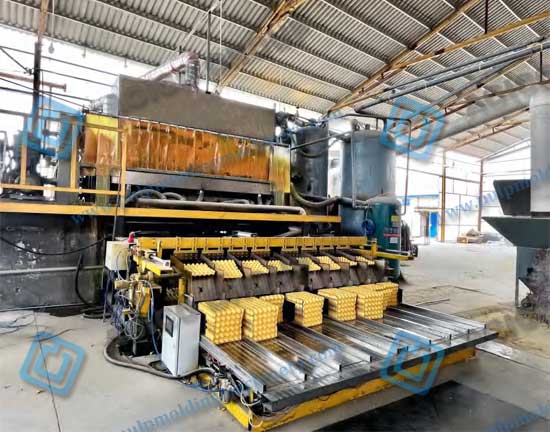 Quality Control:
The 10000 pcs/h capacity egg tray production line is manufactured with high standard part and materials, such as Taiwan's gear segmenter technology, thickend 16# channel for egg tray forming machine and 45# round steel made transmission shaft. The pulp pump, water pump, vacuum pump, air compressor, motor, and other components are all selected from reputable domestic manufacturers.
Automatic 10000pcs/h Egg Tray Production Line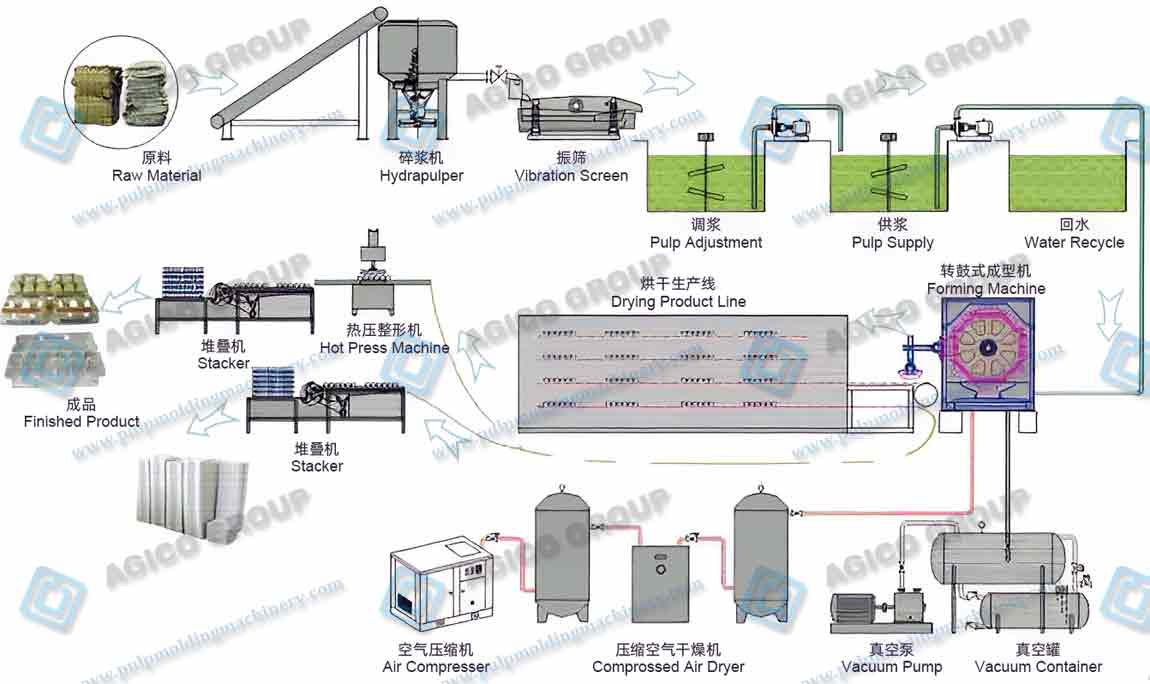 Waste paper such as old newspapers, magazines, and cardboard boxes are pulverized, screened, and mixed with dyes to form a certain concentration of pulp for forming. The main equipment includes hydraulic pulping machine, agitator, pulp pump, water pump, control cabinet, etc. Depending on the different requirements of the finished product, additional equipment such as thickener and refiner can be added, such as vibrating screen and grinding machine.
The pulp is evenly attached to a specially designed molding die by vacuum action to form a wet blank product, which is then transferred to the drying system or dried naturally.
After pulping and forming, pulp products generally contain high water content and need to be dried to remove the moisture.
Sales and Installation Service
Agico provide full solution for customers on egg tray plant equipment and building, we can choose the best match of pulping, forming and drying equipment for customers, paper tray mold die design is also available. Our Service will not be over until the test run of egg tray plant is successful.
Customer are welcome to visit our factory for view of detailed manufacturing process of pulp molding machines, contact us now if you need more info of this fully automatic large capacity egg tray production line.