Disposable Bedpan Forming Machine
Designed to hang on bed rail or stand upright. Rubberized handle provides better patient grip. Having worked with healthcare facilities across the world, we understand storage constraints many facilities face. This urinal holder keeps surfaces clear and containers closer to patients
Disposable Bedpan Forming Machine
AGICO provide disposable urine bottle and bedpan production line, which include the pulp forming machine and drying system. Pulp forming machine is consisted of 2 parts: industrial pulp molding machine and metal mold of urine bottle and bed pan. The final product are various types of disposable urinal bottle/holders and bedpans for hospital applications. If you are interested in supplying them to hospitals, AGICO can provide the perfect solution with best quality pulp molding machine and pulp mold die.
Disposable Urine Bottle/ Bedpan Production Line Specification:
| Model | Capacity | Forming machine | Drying line | Workshop size recommendation | Power requirement |
| --- | --- | --- | --- | --- | --- |
| AG-700A | 50-60kg/h | Reciprocating machine Mold Plate size 1600*400mm | 16m*2.6m*3m | length≥30m width≥10m | 100KW |
| AG-1000A | 80-100kg/h | Reciprocating machine Mold plate size 1600*800mm | 26m*2.6m*3m | length≥40m width≥8m | 160KW |
| AG-2000A | 120-150kg/h | 4 plane rotary machine Mold plate size 1450*450mm | 26m*3.4m*3m | length≥40m width≥15m | 200KW |
Disposable Urine Bottle and Bed Pan Mold Manufacture: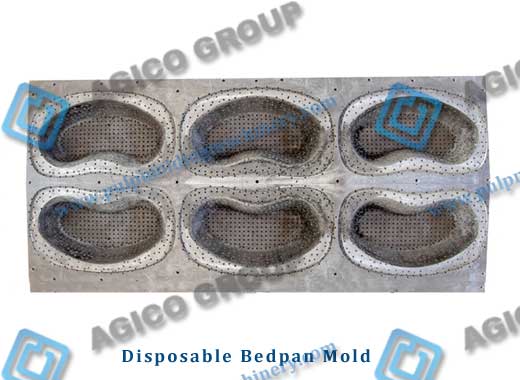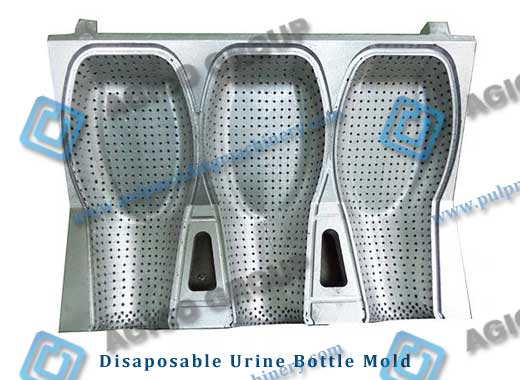 Raw material: The pulp molding mold can be made by solid aluminum, bronze, brass or stainless steel. Usually the lifetime of aluminum mold is 5-6 years, bronze or brass is 10-15 years and 20 years for stainless steel.

Mold Structure: The suction mold includes: a suction mold core, a pressure mesh frame (mold frame), a pressure mesh strip, a net, a suction block, and the like.

Mold Manufacture Equipment: The equipment workshop is divided into several parts,including cutting, welding, assembling, painting, processing, electrical assembling and so on . There are different kinds of processing equipment such as CNC machine, milling machine, drilling machine, lathe, shearing machine, bending machine, wire cutting machine, etc.