6000pcs-h Egg Tray Production Line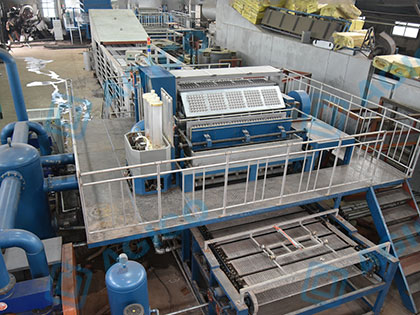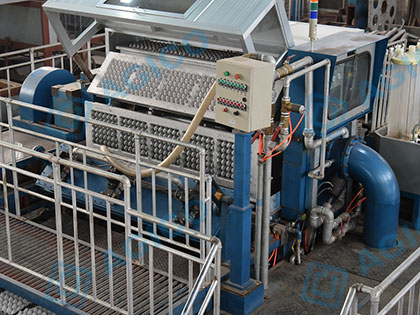 Production Capacity: 6000 pieces/h
Raw Material:   waste paper 
Workers Need:  4-6
Final Product:  egg tray, egg crate, egg box
6000 pcs/h egg tray production line is one of the largest pulp molding production line, with decades of pulp molding machinery design and manufacture experience, it is designed to be automatic production line, Agico aims to stable production, higher output and lower fuel consumption in paper egg tray production, and we are able to offer 6000 pcs/h egg tray making machine along with the 6 layer-metal drying equipment for efficient drying.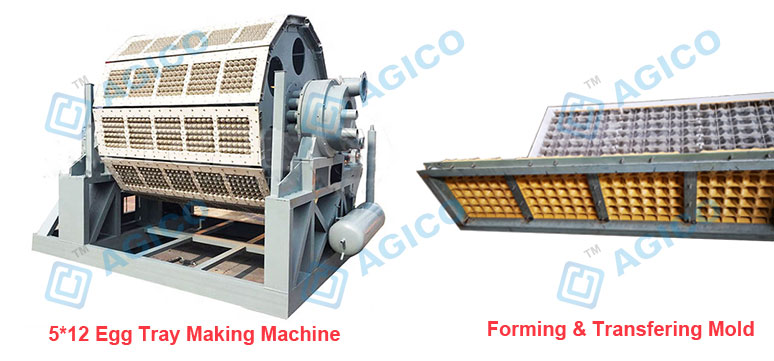 No matter how large the output is, a complete set of 6000 pcs/h egg tray production line includes the 4 following part: pulp making process, pulp (forming) molding process, drying process and packaging (stacker and packer). This egg tray production line is equipped with ZMDT 5×12 pulp molding machine, with totally up to 60 egg tray moulds installed.  
6000 PCS/H Egg Tray Production Line Introduction

6000 pcs/h egg tray production line is configured by 30-eggs tray as standard, you can change the mold to produce other paper trays, if it is you want to make egg carton, bottle tray, coffee tray, etc, it needs auxiliary equipment, hot press machine, sticker, or printing machine etc. Naturally its total power and worker number must be increased compared with lower output model.
Reasons to Choose Agico for 6000 PCS/H Egg Tray Production Line
As one of professional egg tray machinery manufacturers, AGICO supplies egg tray machines with high quality and competitive price, our egg tray production lines has been applies to various paper tray plant project home and aboard. 
Best Design with High Efficiency
The 5*12 mold egg tray machine of this production line is perfectly designed, and has features of reliable quality, high-efficiency, saving-energy.
Agico is fully responsible for  egg tray production line installation, debugging and training, we also guarantee online video installation training is for free.
High Quality Egg Tray Mold Die
Good quality egg tray mold die ensures good quality of egg trays and stable production with less maintenance work, as well as less fees on mold die replacement.
Specification of 6000pcs Automatic Egg Tray Production Line
Production line models
Output(p/h)
Pulping machine
Egg tray machine
Drying type
ZMDT5×12-6000T
6000
ZDS6(6m³)
DT5×12(60 moulds)
Civil engineering
ZMDT5×12-6000J1
Single layer metal
ZMDT5×12-6000J6
Multilayer metal
Consumption of 6000pcs/h Egg Tray Production Line
Models
Drying type
Material(kg/h)
Power(kw/h)
Fuel(kg/h)
Paper
Water
Coal
Gas(m³/h)
Diesel
LPG
ZMDT5×12-6000T
Civil engineering
510
1530
105
208
92-103
77-87
77-87
ZMDT5×12-6000J1
Single layer metal
105
92-103
77-87
77-87
ZMDT5×12-6000J6
Multilayer metal
105
92-103
77-87
77-87
Difference Between Semi-auto and Fully-auto Egg Tray Production Line

For egg tray production lines, the biggest difference between semi-automatic and fully automatic model is the drying method. As the semi-automatic egg tray machine has a small capacity, there's no need to use more power for drying the egg tray. On the contrary, The output of fully automatic machines is large, so the egg tray needs to be dried faster so that it can be stacked and packaged to save room.
For natural drying will take more time which is not suitable for large-scale production. Agico has 3 options for faster drying line, you can choose a single layer metal dryer line or multi layer metal dryer line to dry the egg tray or the brick drying line(civil engineering).