Packing system of pulp mold production line includes 2 sections automatic counter and packer. The counter functions by counting the paper trays conveyed out of drying system (civil engineering or metal drying tunnel), and packer will automatically pack the paper trays into a batch when it has reached the set number.
Packing equipment is a very helpful section for making the pulp mold production line production more automatic, and 2 workers for counting and packing work can be saved in the pulp molding plant.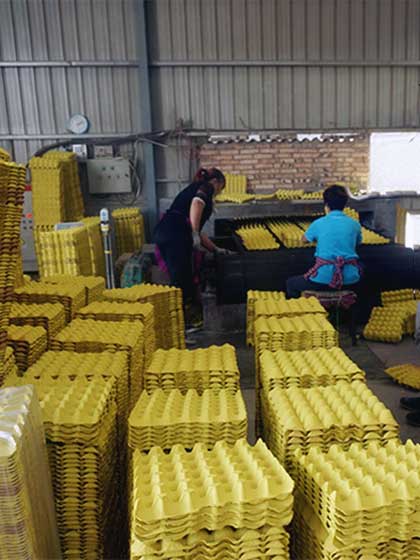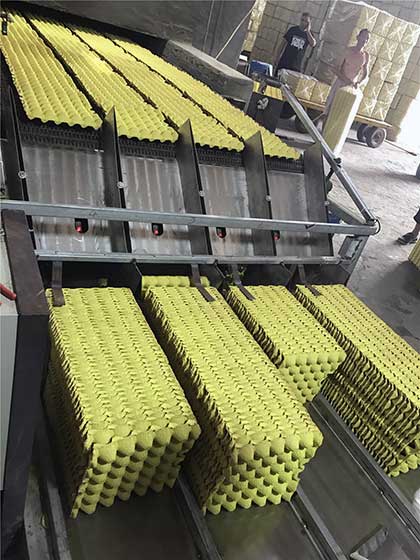 Why Introduce Packing System in Egg Tray Production Line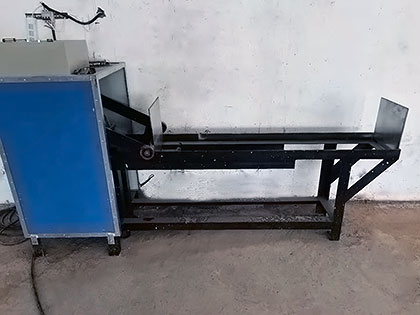 Improving the production line automation level.
Increase Production Output
Reasonable design of structure,
Save Storage Space
Save the Cost of Workers
Hot Pressing Machine-Special Equipment for Packing System
Agico adopts a series of equipment for paper tray packing system, Except for counter and packer, hot pressing machine is always installed at the end of drying equipment of fully auto egg tray production line, hot pressing machine functions by imposing pressure with heat at a set temperature on the paper tray, which will remove the rough selvage and make the surface of the paper tray smoother, at the same time the thickness of paper tray will be reduced and more even, which will reduce package space for product.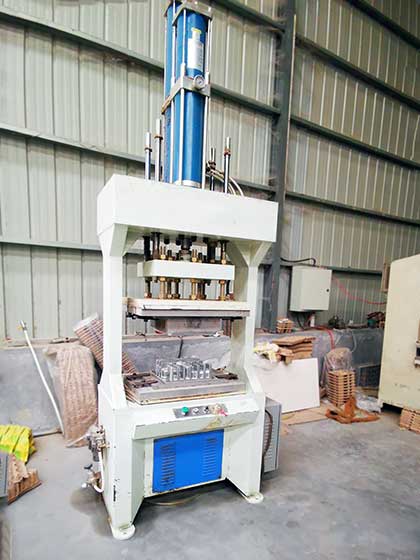 Hot press machine is usually applied to paper tray production line with high quality product requirement, such as egg carton, cardboard shoe insert, wine bottle tray, and disposable tableware. Agico supplies packing equipment with the features of various design, beautiful shape, and high efficiency. It is easy and safe to operate and maintain.
Packer is the main equipment in packing system, it works by imposing pressure on the certain number of paper trays to make them more compact and easy to package, the pressure is created by hydraulic pressure. With the automatic design, the working efficiency is greatly increased in packing system.
Counter shall be installed at the end of conveyor, before the process of packing. It functions by stopping the dried paper trays for a set number and then releases them to packer.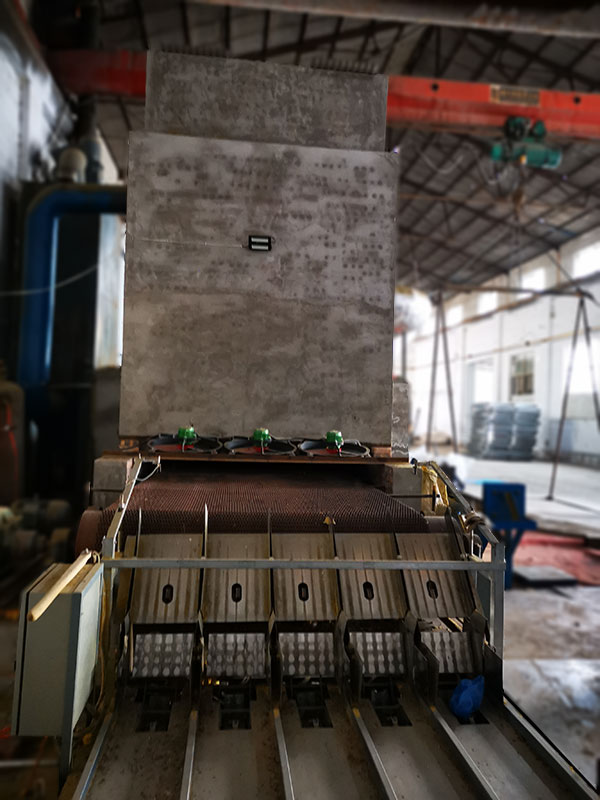 Besides egg tray stacker and packer, we can offer special egg carton labeling line. It is used to label egg cartons. The specification is as belows:
Capacity: about 1200-2500pc/hr
Labeling precision: +/-2mm
Lable must be roller; outter diamater: φ≤280mm; Inner diamater: φ76mm
Label request: (L) 10mm-250mm; (W) 20mm-150mm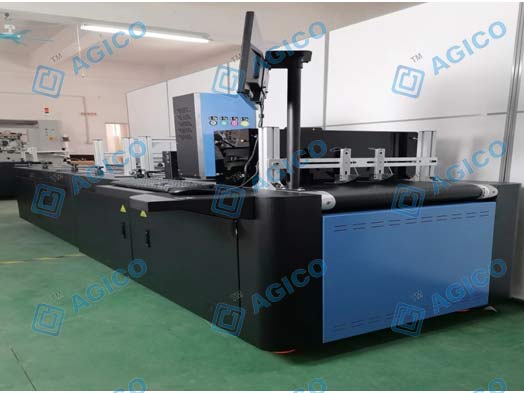 Like egg carton labeling machine, egg carton pad printer is also used to print some patterns or designs on the surface of egg cartons. The specification is as belows:
Capacity: about 700-900pcs/hr;
Color: 4-6 colors, different sides
PLC control
Plate size: 150mm*250mm
Power: 2000W
Voltage: 220V