Dry process Pulp Molded Production Line - Industrial Package
Looking for pulp molding equipment for industrial protective package
Dry process Pulp Industrial Package Production Line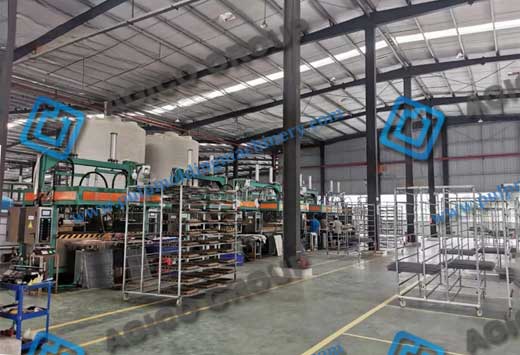 Dry process pulp molded industrial package production line mainly includes 5 parts: pulp making system, pulp forming system, drying system, hot press – pulp thermoforming and packing system.
Dry process method is simply using pulp with certain amount of addictives as raw material, pulp molding machine would form the pulp into the mold die shape after extracting the water content, then it is further dried in a drying oven or tunnel, or it can be naturally dried.  And it is pressed and heated by hot press machine to get better shape and lower moisture(mold drying), to get the final pulp molded industrial package product.
Pulp Molds of Industrial Package
Dry process pulp molding is used to produce high-quality egg trays, egg cartons, apple trays, coffee cup holder trays,  seedling Trays, etc. They are featured with simple mold structure, small size, and thin thickness.
Accordingly, AGICO supplies the egg tray making machine, egg carton making machine, apple tray making machine, coffee cup holder tray making machine, seedling tray making machine.
Pulp molded machine for industrial packaging includes 2 types: paper trays for egg and fruit packages, containers and edge protectors for electronics and tools. According to the final product type and quality requirements, AGICO is able to supply various pulp molding solutions to customers, along with different types of pulp mold dies of industrial packaging. Here are some samples of pulp mold die samples from AGICO:
Dry Process Molded Pulp Industrial Package Production Line
The dry process method for pulp molding involves creating a slurry of pulp with a specific concentration, adding suitable additives, and using adsorption to form a wet paper mold. The wet paper mold is then transferred to a drying road for mold drying, after which hot pressure shaping is applied to produce the final dried product.
Automatic Industrial Package Production Line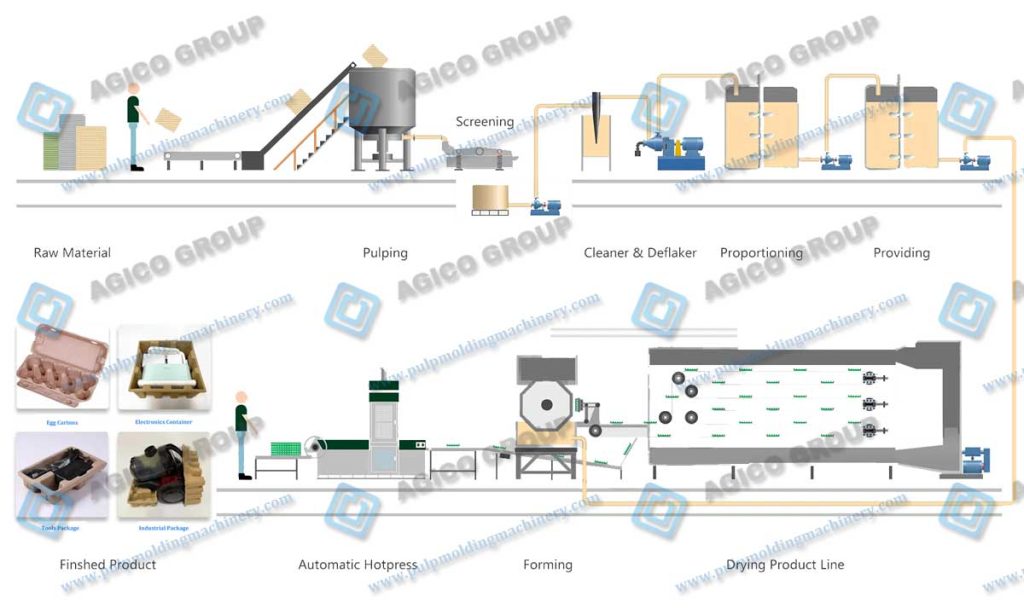 Capacity: Rotary drum pulp molding machine would give you the largest profit for higher capacity from 3000pc/h to 10000pc/h. It is highly suggested that customer to choose stable production with large amount requirements.
Labor: It requires no workers for manual delivery of molded pulp products, wet molded paper trays can be transferred to the next equipment by conveyors during the drying and packing process. Workers are only needed for monitoring the production line working state.
Semi-auto Industrial Package Production Line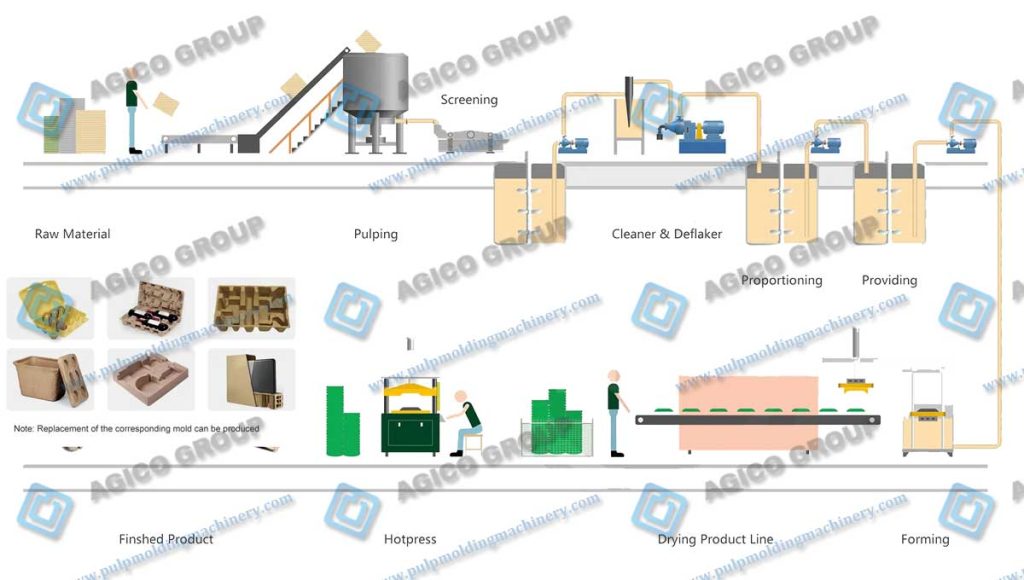 Labor: It requires workers to help deliver the wet molded pulp industrial tray products to brick drying, metal drying equipment or natrual drying shelters, after paper trays finally dries to a moisture content of about 10%-12%, they can be shaped by the hot press machine and trimming machine for better shape and uniform standard size.
Capacity: Reciprocating type pulp molding machine is also able to produce these paper tray products, the capacity from 1000 pcs/h to 2000 pcs/h, with more fuel cost and more production time, the advantage is the mold template can be replaced easily for temporary production of other pulp molded product.
Pulp Molding/Forming Machine
Pulp Molding Machine Types
Dry Process Pulp Molded Industrial Package Features:
Dry pressing paper tray: In short, it is dried and then hot-pressed. Its specific characteristics are as follows:
Environmental protection: Made from waste paper, it is recyclable, contains no chemicals, and is non-polluting.
Protection Function: It contains fibers that provide good shock resistance, and its three-dimensional strength structure provides excellent protection for products.
Storage saving: It can be stacked for storage, reducing storage space by 1/2.
Lower Cost: The unit price is lower than that of foam rubber; the volume of the product's external packaging is slightly smaller, and more products can be loaded into a container, reducing costs.
Moisture resistance: During transportation after packaging, it can absorb excess moisture and enhance the moisture resistance of the product.
Product image: Using environmentally friendly packaging materials can enhance the company's product image and avoid international trade barriers.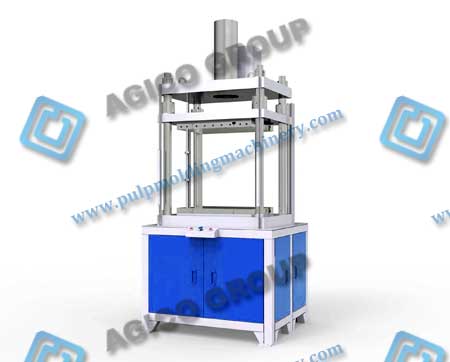 | Model | TYRY-20T |
| --- | --- |
| Work table size/mm | 400*600 |
| Working pressure(T) | 20 |
| Working operation(mm) | 400-500 |
| Cylinder diameter(mm) | Ø160 |
| Power(KW) | 12 |
2 Station Pulp Molded Industrial Package Machine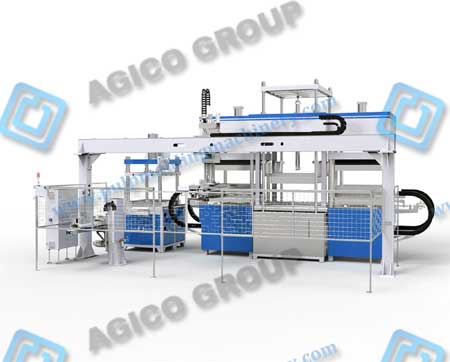 | Machine | One station machine | Double station machine |
| --- | --- | --- |
| Model | ZMGB-1 | ZMGB-2 |
| Mould template size | 600*800mm(can be customized) | 600*800mm(can be customized) |
| Capacity | adjustable based on different product | adjustable based on different product |
| Height of end product | ≤200mm | ≤200mm |
| Control method | PLC Touch screen | PLC Touch screen |
| Equipment size | 1.2m*2.2m*2.3m | 2.8m*2.2m*2.3m |
| Weight | 1.2t | 1.9t |
| Labor needed | 1 | 2 |