Pulp Mold Die Supplied by AGICO
AGICO manufactures a series of paper tray making molds of different sizes, such as egg tray making mold, egg carton making mold, seedling tray making mold, shoe insert tray mold, fruit tray making mold, etc.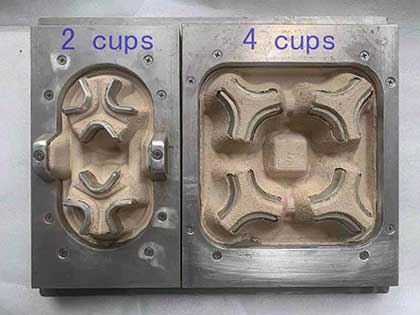 Pulp mold die produced by AGICO works well on both reciprocating machine and rotary drum pulp molding machines, which are used in paper tray production lines of egg tray, egg carton, fruit tray, apple tray, coffee cup tray, shoe insert tray.
How is Pulp Mold Die Produced  
Detail Drawing of Dies
Customer shall provide the dimension details of pulp molding die, it's simple if you can show us the design of pulp molded tray product, then our engineer can modify according to your need and design the exact pulp molded die to fit your final product.
Material Options
The mostly used material for pulp forming mold die is casting aluminum and plastic; hot press molds are made of aluminum and steel, brass is a extra option for customer if you need it.
CNC Machining Equipment
AGICO adopts CNC for pulp molded tray die production, which is a essential equipment for the accuracy level of pulp tray molded die, it will have a longer service life with good working performance.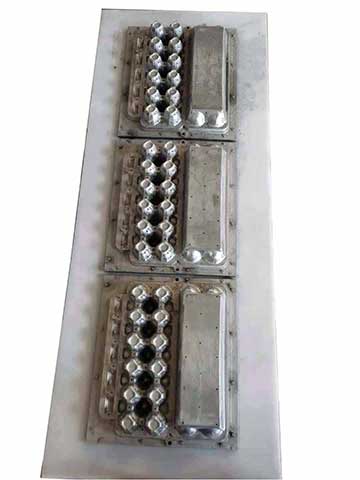 Drill Holes for Pulp Suction
Drill suction holes on the surface of pulp molded dies, this design ensures the sufficient suction force and blow performance in the pulp molded process.
Welding Stainless Mesh
Stainless steel mesh works by separate the air force evenly so that the pulp will form an even and smooth surface in the pulp tray molding.
Assembling on Panel
Install the steel mesh by pressing it tightly on the mould, and fasten the mould unit on the base plate to make one complete set of pulp mold die.
Testing mould
We will make running test of the pulp mold die and provide samples to customer before delivery.